 Sarah Dunton RVN
Sarah joined the practice in 2005 shortly after graduating from University and travelling around Australia. She went on to qualify as a registered veterinary nurse in 2009. Sarah has particular interests in rabbit welfare and all things canine. At home she has her hands full looking after two small children and a Golden Retriever with a boundless enthusiasm for life.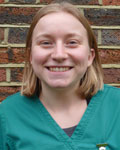 Emilie Toulson
Student Veterinary Nurse
Emilie is one of our training veterinary nurses here at Putlands and although she has only been here a little over a year she has settled in well and become and invaluable part of the team. Emilie is very keen on working with the smaller exotic species, such as rabbits and guinea pigs, however she has a high standard of care for all the patients and is keen to work with all the animals that come in for veterinary treatment. She spends most of her time outside of work caring for her pony, Billy, and her five other pets back home, including her Albino Giant African Land Snail, Barry!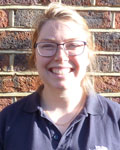 Helen Hart
Large Animal Nurse
Helen joined the practice in 2006. After finishing a degree studying human behaviour, she decided animals were the way to go. She enjoys looking after all species, as long as they aren't trying to bite or kick her! She has a Labrador cross, Louis who can often be found behind the reception desk hovering for biscuits, and a cat Bailey who isn't as enthusiastic about coming in to visit.