Naomi Jones RVN
Head Veterinary Nurse
Naomi is the Head Nurse at Putlands and joined the team in August 2018. Naomi has always had a passion for animals, both large and small, and started training in a mixed practice in 2009. Naomi qualified from the College of Animal Welfare and went on to become Branch Head Nurse, where she remained, before moving to Putlands. Naomi has a keen interest in nursing emergency cases.

When at home she can be found caring for her cat Paddington and dog Archer.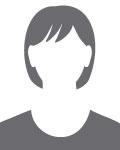 Tracey Bristow RVN
Registered Veterinary Nurse
Tracey has been at Putlands since 2001. She has worked as both a large and small animal nurse as well as spending 4 years as Practice Manager before returning to nursing.

Outside of work she is kept active by her 2 daughters and 2 dogs. She enjoys cross stitch and gardening and has an allotment to keep her busy.
Lynn Gardner RVN
Registered Veterinary Nurse
Born and bred at Putlands Lynn trained at Putlands and qualified in 1998 with the Berkshire College of Agriculture. Lynn loves surgical nursing and has a passion for teaching student nurses.

After a two year break to focus on teaching Lynn re-joined the team in September 2020. She now splits her time between nursing and teaching theoretical veterinary nursing.
Bethany Hunt RVN
Registered Veterinary Nurse
Beth joined Putlands in May 2017 and began training to be a nurse at the College of Animal Welfare in 2019. She qualified in July 2021.

Beth is adept at handling and caring for all kinds of animals as, at home, she has a range of animals including cats, dogs, rabbits, ferrets and a hamster.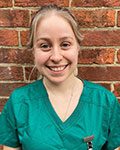 Chloe Smith RVN
Registered Veterinary Nurse
Chloe joined the Putlands team in December 2021 having relocated from the Yorkshire Dales in May 2021. She qualified as a Registered Veterinary Nurse in 2018 from Myerscough College. She has a keen interest in small furries and holds a certificate in Exotic nursing.

In her spare time Chloe enjoys gymnastics and walking her naughty terrier Max.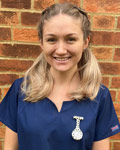 Rebecca Andrews
Student Veterinary Nurse
Rebecca joined the team to begin her career as a Student Veterinary nurse in October 2020. She has always had a love for animals and started out her career in 2017 working and caring for canine companions at Dogs Trust.

Rebecca is kept busy in her spare time by her crazy cocker spaniel Poppy and her sidekick Elvis (her adopted dachsy brother).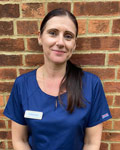 Ru Elson-Gant
Student Veterinary Nurse
Ru is a second year nursing student at the Central College of Animal Studies. She has a keen interest in animal nutrition and therapy animals. Ru was always the kid who brought home all of the stray animals and was lucky enough to keep them.

When her head is not stuck in a text book, Ru is often cycling around the Kent countryside or walking around local National Trust places.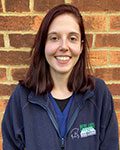 Rianne Hobbs
Student Veterinary Nurse
Rianne began studying as a Student Veterinary Nurse at the Central College of Animal Studies in September 2022. She joined Putlands in December 2020 as a Patient Care Assistant after spending four years at another practice as a Veterinary Receptionist. In September 2016 she graduated from the University of Lincoln with a Bsc(hons) Zoology degree and has completed a number of online animal-related courses since then.

In her spare time Rianne likes to draw and has created a number of pet portraits, even auctioning some pieces to raise money for charity. She is passionate about all animals but she has a special fondness for cats. At home she had two cats, "Ace" who was adopted from the RSPCA in 2017 and "Indie" who she has had since 2020 when she was just a kitten.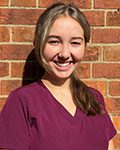 Lola Barham
Patient Care Assistant
Lola joined Putlands Veterinary Surgery in September 2022, after previously working as a Veterinary Receptionist at another local practice. She is currently working as a Patient Care Assistant and has a keen interest in caring for all animals.

Outside of work Lola loves playing with her Irish terrier Dolly, keeping active by going out for runs and seeing her friends at the weekend.