Tracey Bristow
Practice Manager
Tracey is a veterinary nurse who started working at Putlands in 2001 as a large animal nurse before moving to a small animal role in 2006 and then became practice manager in 2017. Outside of work she is kept busy by her two active daughters and two dogs. She enjoys cross stitch and gardening and has an allotment to keep her busy.
Maureen Brooks
Receptionist
Maureen has worked for the practice for over thirty years initially just coming for the summer! Maureen always happy to help. When not at work she enjoys walking her two dogs.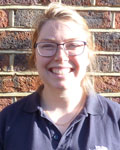 Helen Hart
Helen joined the practice in 2006. After finishing a degree studying human behaviour, she decided animals were the way to go. She enjoys looking after all species, as long as they aren't trying to bite or kick her! She has a Labrador cross, Louis who can often be found behind the reception desk hovering for biscuits, and a cat Bailey who isn't as enthusiastic about coming in to visit.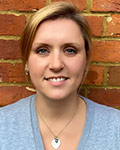 Caroline Relf
Accounts Administrator
Having joined the team in November 2018 from a 10 year background in healthcare, Caroline brings her Customer Service and organisational skills to the administration team. Dealing with insurance and accounts with determination and vigour. When she's not giving her all to help our patients, she enjoys outdoors activities with her family & two dogs in tow, and Gastro Pub dining.
Matilda Jones
Receptionist
Matilda joined the practice in October 2019 and is an enthusiastic and bubbly member of the team. Having grown up surrounded by animals, she has always wanted a career where she is able to work alongside them. In her spare time Matilda enjoys long countryside walks with her three Welsh springer spaniels and spending time with friends and family.
Gemma Burge
Receptionist
Gemma joined the team in October 2020. Having come from 13 years in Customer Service for British Airways she now has the opportunity to expand those skills and welcomes the idea of meeting new furry clients along with their owners. When not working she enjoys target shooting with her partner Nathan and cosy evenings in with him and their rescue cat, Admiral, who just loves to have a lap to sit on.